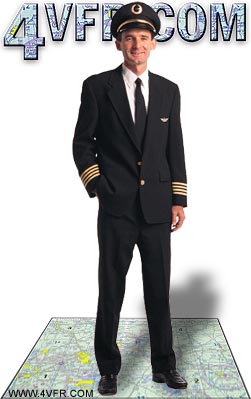 We Help You Pass
Our free online study guide really works. You can study for your FAA private pilot ground school exam right now. For more info about the 4VFR.COM project, click here. You can find a daily update log here.

Live ATC Audio Streams
Tune into live air traffic control frequencies from North America. This feature requires Real player. Start listening to ATC now!

Reference Library
Our glossary lists and databases have grown quickly. I am working to create an on-line reference library to tie together all the loose ends. You can check out what is currently available in the library

FAA Practice Exam - New!
Introducing our newly enhanced practice exam. Now with figures!. Take a test a day for a week, and I guarantee you will do better on your exam. Get Started Now!

Show your support for 4VFR.COM - Link us. Bookmark us. Tell your mother about us. Press CTRL-D to bookmark this site now!. Check out one of our proposed T-Shirt Designs.

Feature Article: VFR Midairs

82% occur by one aircraft being overtaken from the rear.
35% occur with convergence less than 10 degrees.
77% occur below 3000'
49% occur below 500'

Midairs

The pilot is responsible for maintaining a scan which may or may not be supplemented by ATC.


Use CRM especially passengers

Be accurate on your position reports and suspicious of those of others.

Check and recheck all clearances and advisories.

If you lose visual contact with reported traffic, let ATC know.

Avoid letting terrain or weather suck you into a high traffic area.

Avoid direct flight through VORs

The higher you fly the less traffic you will have.

Fly coastlines at least 1/2 mile off-shore

Clean your windows.

Strobe lights increase aircraft delectability times 10.

CFIT (Controlled flight into terrain)

Accidents occur when situational awareness is compromised and account for 25% of aviation accidents.

Four of every five Controlled Flight Into Terrain (CFIT) occurs in very cold weather. Says something about the validity of altimeter settings in cold conditions.