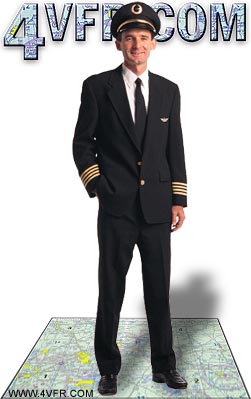 We Help You Pass
Our free online study guide really works. You can study for your FAA private pilot ground school exam right now. For more info about the 4VFR.COM project, click here. You can find a daily update log here.

Live ATC Audio Streams
Tune into live air traffic control frequencies from North America. This feature requires Real player. Start listening to ATC now!

Reference Library
Our glossary lists and databases have grown quickly. I am working to create an on-line reference library to tie together all the loose ends. You can check out what is currently available in the library

FAA Practice Exam - New!
Introducing our newly enhanced practice exam. Now with figures!. Take a test a day for a week, and I guarantee you will do better on your exam. Get Started Now!

Show your support for 4VFR.COM - Link us. Bookmark us. Tell your mother about us. Press CTRL-D to bookmark this site now!. Check out one of our proposed T-Shirt Designs.

Feature Article: When A Pilot Dies

Two of my pilots have died in airplane crashes. One, I had advised to quit and I thought that he had. Three years later, after his death, I found that he had gone to a friend of mine to finish up his instruction only to kill himself flying home after passing his flight test. The other tried to follow a car along a dirt road filled with family members while flying at low altitude. Stall; spin only a week after passing the flight test. Took a son down with him. I have never been the same.

My question has always been, "What was my responsibility?" I know I failed as a teacher at some point in their past. I have spent considerable time since these events wondering what I could have, should have, done and said. I am much more willing to talk about the student who stole a club plane, took a bottle of whiskey and proceeded to circle at altitude over the S.F. Bay area while drinking until unconscious. He passed out. The aircraft was so well trimmed that it flew him all the way across the Sierras and eventually crashed into the Nevada desert. Plane totaled but student was not injured. Student had not flown with me for over four months but club felt that I had been at least partially responsible. Club nearly went under since they only had one plane. Responsibility? Accountability? If I only knew.

On the other hand, I have taught students who went on to become airline pilots, military pilots, commercial pilots but most have flown for years as private pilots. I have never counted how many successes and failures I have had. We lose touch all too easily in today's world. Now, on the internet I have touched the lives of more pilots than ever. Hardly a week goes by but that some internet friend writes to thank me for the influence what I have written has had on their lives. Responsibility? Accountability? If I only knew.

On the internet I can no longer know ahead of time that the student who has read my material has used it as a jumping-off point for higher ratings and certificates. I can no longer take advantage of my in-cockpit opportunities to learn more from my student than they learn from me.

Related Links
Featured Articles
Student Kudos
"Thanks for putting such a useful website on the net. The exam practice will be something I will use more as the exam date looms closer."
- Duncan Berges