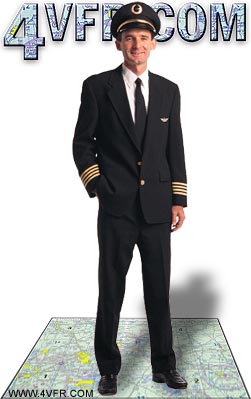 We Help You Pass
Our free online study guide really works. You can study for your FAA private pilot ground school exam right now. For more info about the 4VFR.COM project, click here. You can find a daily update log here.

Live ATC Audio Streams
Tune into live air traffic control frequencies from North America. This feature requires Real player. Start listening to ATC now!

Reference Library
Our glossary lists and databases have grown quickly. I am working to create an on-line reference library to tie together all the loose ends. You can check out what is currently available in the library

FAA Practice Exam - New!
Introducing our newly enhanced practice exam. Now with figures!. Take a test a day for a week, and I guarantee you will do better on your exam. Get Started Now!

Show your support for 4VFR.COM - Link us. Bookmark us. Tell your mother about us. Press CTRL-D to bookmark this site now!. Check out one of our proposed T-Shirt Designs.

Feature Article: The Instructor

I can teach you to fly in about five minutes but it will take the rest of your life to get it right. It is not just ability to exercise reasonable control of the airplane that makes the pilot. The complete pilot, even the student, needs to be aware of the total pie that constitutes flying. To do this in the restraints of the training regime is the initial problem.

Instructors don't know what they don't know and students don't know what they don't know. (Basic precept...likely to appear again...and again...and again...) As an instructor, I try to make a distinction between telling a student what to do and teaching the what, why, and how of doing something. Knowing the reason is as important, if not more important, than the actual performance.

Over two-thirds of flight training takes place on the ground. The homework assignment, preflight discussion and post-flight analysis are as essential as the flight itself. The failure of a lesson begins when the teacher has failed to provide the motivation the student needs to prepare for the flight. The teacher must determine before the lesson that the student is prepared. If a prepared student fails to succeed then there is some unknown factor in the instruction making a difference. This factor needs to be found by the instructor. I have generally found many of the difficulties to lie in the student selecting the incorrect priority either in the aircraft, on the radio or, outside the aircraft. You are not expected to know and learn everything all at once.