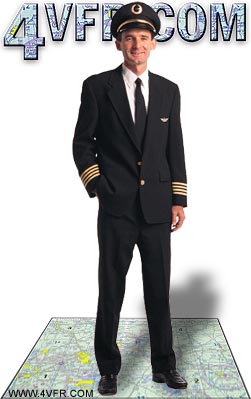 We Help You Pass
Our free online study guide really works. You can study for your FAA private pilot ground school exam right now. For more info about the 4VFR.COM project, click here. You can find a daily update log here.

Live ATC Audio Streams
Tune into live air traffic control frequencies from North America. This feature requires Real player. Start listening to ATC now!

Reference Library
Our glossary lists and databases have grown quickly. I am working to create an on-line reference library to tie together all the loose ends. You can check out what is currently available in the library

FAA Practice Exam - New!
Introducing our newly enhanced practice exam. Now with figures!. Take a test a day for a week, and I guarantee you will do better on your exam. Get Started Now!

Show your support for 4VFR.COM - Link us. Bookmark us. Tell your mother about us. Press CTRL-D to bookmark this site now!. Check out one of our proposed T-Shirt Designs.

Feature Article: Smoothness

Piloting skill is usually poorly defined unless the smoothness factor is included.It is only by the smallest increments of control pressures that a skilled pilot is able to make controlled flight appear to be without obvious input. Speed and position seem to just happen.

You can do it as well. If you don't want the plane over there, then don't let it go there. You can get there smoothly just by keeping your control input gentle and light of touch. No jerks, gentle as possible but firm when required. By making very small adjustments you can make your mistakes less obvious.

In many respects turning a plane is a series of small smooth elements just as you would use in getting into a tight parking space in one try. Only by making your control movements in the smallest of increments can you detect your small mistakes and prevent them getting worse. The major distinction between a smooth pilot and the rest is to smallness of their control and power application. Even the larger applications of the smooth pilot are reduced by half before they have a chance to take effect.

I recently flew with a very competent pilot who was in the process of making a series of small heading changes for the purpose of intercepting a VOR radial. The pilot made all the required turns using the ailerons. The plane was rocking along without a change in the VOR needle. Problem was without a smidgen or rudder no turns were being made. In a similar vein, I was flying with my daughter-in-law in the front seat. She is a classic non-pilot. As I flew along without my hands on the yoke, she remarked something to the effect that we must be on autopilot. The ultimate 'smoothness' complement.