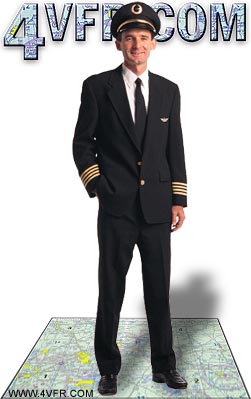 We Help You Pass
Our free online study guide really works. You can study for your FAA private pilot ground school exam right now. For more info about the 4VFR.COM project, click here. You can find a daily update log here.

Live ATC Audio Streams
Tune into live air traffic control frequencies from North America. This feature requires Real player. Start listening to ATC now!

Reference Library
Our glossary lists and databases have grown quickly. I am working to create an on-line reference library to tie together all the loose ends. You can check out what is currently available in the library

FAA Practice Exam - New!
Introducing our newly enhanced practice exam. Now with figures!. Take a test a day for a week, and I guarantee you will do better on your exam. Get Started Now!

Show your support for 4VFR.COM - Link us. Bookmark us. Tell your mother about us. Press CTRL-D to bookmark this site now!. Check out one of our proposed T-Shirt Designs.

Feature Article: Universal Aspects

Soundness of judgment
Division of attention
Airspeed and altitude limits
Safety awareness
Smooth and accurate aircraft control
Ability to explain
Where to find information
Situational awareness.
Tests now follow logical sequence of flight from preflight to shutdown. There is an applicantís checklist of what to bring to the test along with an examinerís checklist of things to be covered. The introduction tabulates the references to be used by the examiner. Responsibility for teaching and testing of the test standards is explained along with special emphasis on aircraft operations critical to safety. The standards of performance are delineated between satisfactory and unsatisfactory.

Each test, once begun, will result in:
Pass - with white temporary certificate
Fail - with "pink" Notice of Disapproval of Application
Letter of Discontinuance - Applicant has 60 days to finish test.
Any subsequent test must be completed before expiration of written test deadline. (24 months after taken)

The following is an effort to give the pilot to be, a comprehensive but not complete analysis of the PRACTICAL TEST STANDARDS. In this one place you will find everything on the test but often greatly understated because of space constraints (Chronologically challenged instructors never admit knowledge limits). Where practical, brief and often incomplete topical explanations are made suggestive of what might be required during the test. Many aviation texts will give an expanded complete explanation. If particular items fail to bring recognition and understanding then go back to the books or your instructor. Refer to the contents of this material as it exists in other areas.
Related Links
Featured Articles
Student Kudos
"I have to say this site is amazing. I congratulate you for this. I`m looking forward to see the development of this site. I dont have a lot of money and is always been a dream for me to learn to fly, and i think this site is unbeliavable, becouse i can learn so much from this. Actually i have learned a lot flying flightsim and asking question and now this site is going to help even more. "
- Fabian De Simone