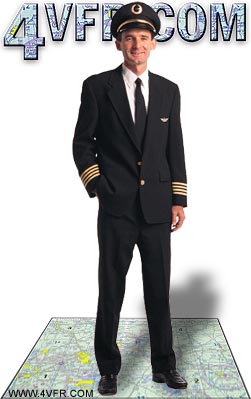 We Help You Pass
Our free online study guide really works. You can study for your FAA private pilot ground school exam right now. For more info about the 4VFR.COM project, click here. You can find a daily update log here.

Live ATC Audio Streams
Tune into live air traffic control frequencies from North America. This feature requires Real player. Start listening to ATC now!

Reference Library
Our glossary lists and databases have grown quickly. I am working to create an on-line reference library to tie together all the loose ends. You can check out what is currently available in the library

FAA Practice Exam - New!
Introducing our newly enhanced practice exam. Now with figures!. Take a test a day for a week, and I guarantee you will do better on your exam. Get Started Now!

Show your support for 4VFR.COM - Link us. Bookmark us. Tell your mother about us. Press CTRL-D to bookmark this site now!. Check out one of our proposed T-Shirt Designs.

Feature Article: The Cockpit

Using the tape recorder I go over all the instruments and controls. I pay particular attention to the markings and divisions on the dials, their degrees of accuracy, reliability, and source of power. I display aircraft papers and manual and recommend future study and perusal. I emphasize positioning of pilot, setting of seats, belts, windows and doors. I introduce positioning of controls and switches. I demonstrate the setting and release of the parking brake. This is information often omitted in checkouts. I will recommend that the parking brake not be used as a normal procedure because of its unreliability. I demonstrate operation of primer, throttle clutch, and fuel shut off valve. I show how the last few inches of rearward yoke movement goes up as well as back. Most of all I introduce the way the radio knobs and switches work. With the Master Switch on I will show how successive counts of 1-2-3-4 will give 10 degrees of additional flap. We will note irregularities on the flap indicator and practice getting the count so that we get 10 degrees every time. This eliminates one additional distraction during the landing process.