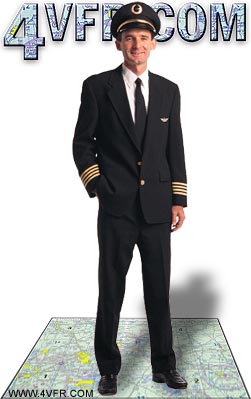 We Help You Pass
Our free online study guide really works. You can study for your FAA private pilot ground school exam right now. For more info about the 4VFR.COM project, click here. You can find a daily update log here.

Live ATC Audio Streams
Tune into live air traffic control frequencies from North America. This feature requires Real player. Start listening to ATC now!

Reference Library
Our glossary lists and databases have grown quickly. I am working to create an on-line reference library to tie together all the loose ends. You can check out what is currently available in the library

FAA Practice Exam - New!
Introducing our newly enhanced practice exam. Now with figures!. Take a test a day for a week, and I guarantee you will do better on your exam. Get Started Now!

Show your support for 4VFR.COM - Link us. Bookmark us. Tell your mother about us. Press CTRL-D to bookmark this site now!. Check out one of our proposed T-Shirt Designs.

Feature Article: Courtesy

Airport courtesy extends beyond the rules of right of way. Don't use strobe lights on the ground. Give preference to aircraft which operate on time schedules or are large users of fuel. (Fire suppression aircraft always deserve right of way.) In the run up area use the wheel instead of the wingtip as your guide to the edge. Give the taxiway as much clearance as possible to allow passage of long winged aircraft. Practice using as little of the run up area as you can safely so that you will develop the skills needed when little space is available. Though not required, General Aviation planes can develop good feelings toward their activities by giving way to commercial operations where practical.

A pilot should enter a run up area and park in such a way as to minimize the space occupied as a courtesy to other aircraft. The position, ideally, should not intrude on the ability of other aircraft to run up, use a taxiway or have runway access. The fighter wingman position seems to be the best option when arriving after other aircraft. All too often do we see three planes occupying space meant for five or more. Arrive at the run up area so as to allow the engine to face the wind for additional cooling and to allow maximum room for other aircraft.

Arrive at the run up area so as to allow the engine to face the wind for additional cooling and to allow maximum room for other aircraft. Do not let yourself be hurried into a takeoff by ATC or otherwise. A hurried departure may not allow you to properly clear the runway approaches. Plan your turn to clear the runway so as to give a large turning arc for smooth alignment and acceleration. Remember, ATC only gives clearances. The safety of any action resides with the pilot. Practice for the departure communication with the tower to include "on course to destination)" and a request for a time check. This serves as a mini-flight plan which is recorded as well an experience in noting zulu time.