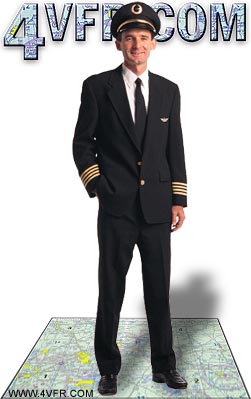 We Help You Pass
Our free online study guide really works. You can study for your FAA private pilot ground school exam right now. For more info about the 4VFR.COM project, click here. You can find a daily update log here.

Live ATC Audio Streams
Tune into live air traffic control frequencies from North America. This feature requires Real player. Start listening to ATC now!

Reference Library
Our glossary lists and databases have grown quickly. I am working to create an on-line reference library to tie together all the loose ends. You can check out what is currently available in the library

FAA Practice Exam - New!
Introducing our newly enhanced practice exam. Now with figures!. Take a test a day for a week, and I guarantee you will do better on your exam. Get Started Now!

Show your support for 4VFR.COM - Link us. Bookmark us. Tell your mother about us. Press CTRL-D to bookmark this site now!. Check out one of our proposed T-Shirt Designs.

Feature Article: Where's The Problem?

When an instructor becomes upset over a student's performance, the student could well consider that the problem lies with the instructor. An instructor may become impatient because the flight is his fourth of the day and he can't accept poor performance from this student of procedures he has already taught three times today. Happens.

The instructor is projecting his past teaching to the present and has failed to recognize that his analysis has nothing to do with reality. Instructional fatigue will make it likely that no adjustment of teaching technique will occur. The CFI has already backed off with previous students and is now unable to make the adjustment again because he has mixed up the students and the lesson in his mind..

An instructor who shows impatience or anger with a student has a problem, not the student. Just yesterday I had such a problem. The student began well and flew through two full approaches with a light touch. He actually flew the first departure with rudder alone. On the second missed approach ATC had him turn early. This single change triggered stress so that by the time we were on the third approach he was using a full fist on the yoke. Initially, I did not recognize this as his fatigue coming into play. When I did recognize the problem my approach to making corrections and advice completely changed.