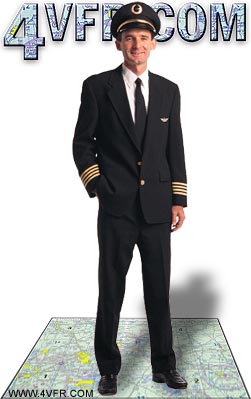 We Help You Pass
Our free online study guide really works. You can study for your FAA private pilot ground school exam right now. For more info about the 4VFR.COM project, click here. You can find a daily update log here.

Live ATC Audio Streams
Tune into live air traffic control frequencies from North America. This feature requires Real player. Start listening to ATC now!

Reference Library
Our glossary lists and databases have grown quickly. I am working to create an on-line reference library to tie together all the loose ends. You can check out what is currently available in the library

FAA Practice Exam - New!
Introducing our newly enhanced practice exam. Now with figures!. Take a test a day for a week, and I guarantee you will do better on your exam. Get Started Now!

Show your support for 4VFR.COM - Link us. Bookmark us. Tell your mother about us. Press CTRL-D to bookmark this site now!. Check out one of our proposed T-Shirt Designs.

Feature Article: Tie Down

Given a choice of where to tie down, always face into the wind. A crosswind tie down means that the aircraft will be trying to weather vane into the wind thus creating side loads on the landing gear. The rudder is the most easily damaged control surface. Cessna rudders will flop and bang in the wind unless exterior gust locks are applied.

Since hydraulic systems can be influenced and damaged by external heat it is not a good idea to park with the parking brake locked on. Freezing weather may freeze the brake pads to the brake disk, too.

If the ropes or chains are supplied at fixed anchor points it is best to have about 45 degree angles to the aircraft tiedown ring. If the ropes or chains slide on a cable they should be vertical to the aircraft. A tight rope is standard but it will lift the cable and poise a hazard to foot traffic. Chains usually have two hooks. The end hook goes into the aircraft tiedown eye and the other hook is used to shorten the chain. Ropes require that you become familiar with tying a bowline or half hitch.