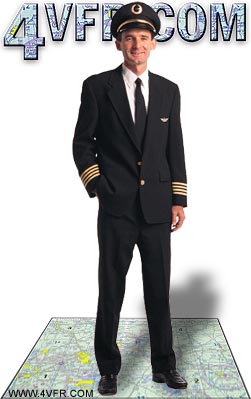 We Help You Pass
Our free online study guide really works. You can study for your FAA private pilot ground school exam right now. For more info about the 4VFR.COM project, click here. You can find a daily update log here.

Live ATC Audio Streams
Tune into live air traffic control frequencies from North America. This feature requires Real player. Start listening to ATC now!

Reference Library
Our glossary lists and databases have grown quickly. I am working to create an on-line reference library to tie together all the loose ends. You can check out what is currently available in the library

FAA Practice Exam - New!
Introducing our newly enhanced practice exam. Now with figures!. Take a test a day for a week, and I guarantee you will do better on your exam. Get Started Now!

Show your support for 4VFR.COM - Link us. Bookmark us. Tell your mother about us. Press CTRL-D to bookmark this site now!. Check out one of our proposed T-Shirt Designs.

Feature Article: Dealing with Delays

One of the advantages of learning to fly in the fall is the greater probability of weather delays. A pilot learns to live with and accept delays of any kind as part of flying. The pilot who has an attitude problem that makes delay unacceptable is heading for an accident. Some types of delay can be managed by planning time allowances. Knowledge can be helpful, too. A flyer learns to accept that everything cannot be controlled. Don't try to change those things that can't be changed.

In a club, it is not unusual to arrive at the airport and find that the aircraft is not fueled or may be low on oil. Know how to make a quick check and how to make arrangements. What do you do if the aircraft is not there? Call the answering service. Call the scheduling officer or maintenance. How long will it take to get air into a tire? What if the air filter is loose? I lost my sectional. I left my flashlight home. Allow extra time in your flight schedule to flex with unavoidable delay. You must adjust, flex, and give up. On some days you were just not meant to fly.