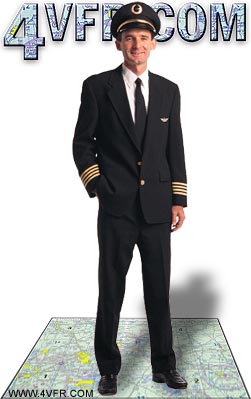 We Help You Pass
Our free online study guide really works. You can study for your FAA private pilot ground school exam right now. For more info about the 4VFR.COM project, click here. You can find a daily update log here.

Live ATC Audio Streams
Tune into live air traffic control frequencies from North America. This feature requires Real player. Start listening to ATC now!

Reference Library
Our glossary lists and databases have grown quickly. I am working to create an on-line reference library to tie together all the loose ends. You can check out what is currently available in the library

FAA Practice Exam - New!
Introducing our newly enhanced practice exam. Now with figures!. Take a test a day for a week, and I guarantee you will do better on your exam. Get Started Now!

Show your support for 4VFR.COM - Link us. Bookmark us. Tell your mother about us. Press CTRL-D to bookmark this site now!. Check out one of our proposed T-Shirt Designs.

Feature Article: Trim Use

Correct use of the trim requires that control pressures be applied to hold the desired flight attitude. Then the trim is adjusted to relieve present control pressures. Some initial change in trim should always be made since it reduces drag. If the aircraft is in an accelerating or decelerating mode anticipatory trim changes may be desired. Proper trim is a necessary part of flying from both operational and safety standpoints. The skill of the pilot is proportional to ability to trim.

Being able to trim the aircraft for any attitude requires that the pilot adjust the amount of download on the horizontal tail surfaces. It is this downwload that overcomes the nose weight of an aircraft. Download is 'lift' of the tail surfaces directed opposite to the lift of the wing. Refer to the Flight Training Handbook, AC 61-21 Page 277.

The important thing in using trim is always to be able to keep track of where it is. This is the reason I urge you to use a finger tip rather than a pinch. The fuel/pilots location in the c-150/152 are so near the CG that the trim movement will be rather constant. Any variation will be corrected if everything is predicated on beginning at a constant. The constant that I use has always been: Level cruise at 2400 rpm and hands off.

This constant works just a well if using C-172 or C-182. The presence of a rear-seat passenger will be corrected for using this constant. Pipers trim differently. Flaps change pitch attitude significantly but require very little trim adjustment. As you know the indicator markings are often illegible or not calibrated. A slipping trim cable is a frequent problem.