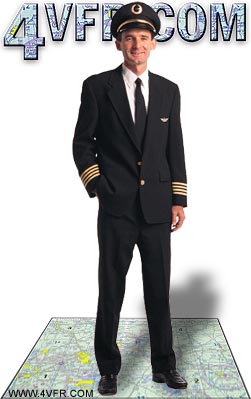 We Help You Pass
Our free online study guide really works. You can study for your FAA private pilot ground school exam right now. For more info about the 4VFR.COM project, click here. You can find a daily update log here.

Live ATC Audio Streams
Tune into live air traffic control frequencies from North America. This feature requires Real player. Start listening to ATC now!

Reference Library
Our glossary lists and databases have grown quickly. I am working to create an on-line reference library to tie together all the loose ends. You can check out what is currently available in the library

FAA Practice Exam - New!
Introducing our newly enhanced practice exam. Now with figures!. Take a test a day for a week, and I guarantee you will do better on your exam. Get Started Now!

Show your support for 4VFR.COM - Link us. Bookmark us. Tell your mother about us. Press CTRL-D to bookmark this site now!. Check out one of our proposed T-Shirt Designs.

Feature Article: 1999 Was A Very Good Year

1908 general aviation accidents
342 were fatal accidents
7.05 accidents per 100,000 hours of flying



CFI PTS is now over 150 pages up from eight pages twenty years ago..

GPS dependence has increased need for ATC flight assists to rise to record levels.

CRM training reduces accident rates by 54%

10% of IFR accidents occur to non-IFR pilots.

General Aviation, in 1999, had the lowest accident and fatality rate since records have been kept. There was over an eleven percent reduction in fatal G.A accidents and a 1.7% decline in accidents.Fatal instructional accidents fell 9.1%. Of 18 instructional accidents, only two resulted in fatalities. At the present time, year 1999, there are 300,000 weather related airline delays cosing $3 billion. This amounts to $50 million of lost and unrecoverable revenue.

1999 Was a Very Good Year; …; NTSB has a table of GA accident rates at
http://www.ntsb.gov/aviation/Table10.htm.

Database with detailed descriptions of reportable accidents and incidents, at
http://nasdac.faa.gov/asp/fw_ntsb.asp.

Anaylsis of types of GA accidents, at
http://www.aopa.org/asf/publications/98nall.html.

Takeoff
20-percent of all accident happen at takeoff. Adequate preflight is the most obvious preventative.