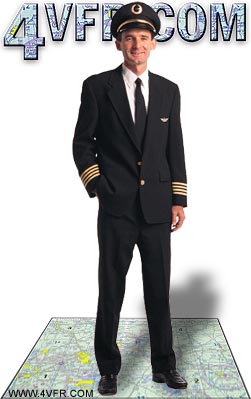 We Help You Pass
Our free online study guide really works. You can study for your FAA private pilot ground school exam right now. For more info about the 4VFR.COM project, click here. You can find a daily update log here.

Live ATC Audio Streams
Tune into live air traffic control frequencies from North America. This feature requires Real player. Start listening to ATC now!

Reference Library
Our glossary lists and databases have grown quickly. I am working to create an on-line reference library to tie together all the loose ends. You can check out what is currently available in the library

FAA Practice Exam - New!
Introducing our newly enhanced practice exam. Now with figures!. Take a test a day for a week, and I guarantee you will do better on your exam. Get Started Now!

Show your support for 4VFR.COM - Link us. Bookmark us. Tell your mother about us. Press CTRL-D to bookmark this site now!. Check out one of our proposed T-Shirt Designs.

Feature Article: Selecting Your Instructor

Your instructor is one essential leg to the flight-training program. An interview and perhaps demonstration flight can be very deceptive. I do believe that flying with the first person to say hello has a relatively high element of chance. I would first select the airport from which to fly. You are more likely to fly more often if the field is convenient. What kind of airport and how busy is not a major consideration. Perhaps the field selection may be a choice between several airports. If a simulator is involved, it will be only as good as the instructor.

You might want to interview your instructor selections in a non-flying situation over coffee. Find out where they trained and from whom. Ask what are they planning with their flying career and just how their teaching you fits into the picture. If the instructor is building hours for another occupation you might look elsewhere. All instructors are different and changing instructors is always an option you should hold open. Better to make the changes, once considered, sooner than later. Ask why is the instructor an instructor. Is the instructor working for you or for himself or is another skimming some of his pay? Is the planned program designed to give you economy and achievement? If the instructor charges for telling 'war stories', the talking can become expensive.

What you are looking for is communication skills, experience, dedication and professionalism. You want an instructor who is willing to fly you into weather. You are looking beyond theory for practical knowledge and applications not always available in textbooks. Basically, you are looking for a communicator with knowledge, creativity, discipline, patience with the ability to determine weaknesses and strengths.

The last major consideration is time. An instructor who is not available is like not having one at all. As a student, you must not begin flying unless you have both the money and time required for learning efficiently. You should demand that the instructor have both time and available aircraft. Reliability is essential. Be on time and give the instructor only two shots at being late. Let him know this during the interview. Waiting is what makes old age.

50% of students who get medical certificates do not get their licenses Why are we using the least experienced of our instructional prospects as the majority of our teachers? Teachers, regardless of what they teach are on the lowest rung of the career ladder. A teacher is good who has enthusiasm for his material and is eager to share it. Look for such a teacher.
Where to go; what to do
You can find whom to interview by talking to people around the airport. Pretty soon certain names will keep coming up. Those are the people you want to see. Compare at least three and then ask to talk to some of their present and past students. Contact the local designated examiner and ask for recommendations. You are far more likely to make a good choice using the opinions of relatively experienced pilots and students. If you plan to fly at a controlled airport, go to the tower on different shifts and get ATC opinion. The question to ask is, "Who would you select as your flight instructor?" "Why?"
Use your eyes, ears and nose during your meetings. I have flown with instructors with various physical handicaps and have found that the instructor who overcomes problems has much to offer any student. Appearance makes a difference. Consider whether you want to work out inclusion of some selected ground instruction. Having the same person teach you to fly and guide you through self-study of ground school has inherent coordination advantages to the student. Your flying will supplement your ground instruction and vice versa. Taking a ground school is not very efficient.
Don't take your demonstration ride right away. Make an arrangement that will allow the instructor an opportunity to assign home study and a preflight review of what will be flown. Confusion has a negative effect on learning. Most instructors are above average pilots. Being able to fly is not nearly as important as being able to teach flying. The best teaching will occur before and after the flight. The airplane is a very poor classroom.
Money spent on a demonstration lesson can be informative. Try to take the same lesson from all instructors so you can relate comparisons. Have a set of identical questions to ask each instructor. Grade the explanations for each question. Questions should vary from highly technical to stupid. Listen for a change in voice tone and body language as the questions vary. A good instructor is not averse to admitting ignorance. Knowing where to find information is just as important as knowing. Good flight instructors learned on the job.
The type of aircraft is mostly a matter of personal preference. The instructor is often limited in his selection by what is available. You are not so limited. Some aircraft are somewhat too easy to fly. Others like taildraggers offer difficulties. Ask as many pilots as you can about their training preferences and then use your own judgment. Having a plane you feel comfortable with will improve your learning.
NAFI (National Association of Flight Instructors) has a wide range of information, including NAFI flight instructor names, hometowns and contact telephone numbers. www.nafinet.org